Okay so I have not written for a while and I am sorry to the hundreds of devoted readers for not being more consistant. I will try to get a pulitzer prize winning blog out at least once a month I promise.
So why, I hear you shout, what have you been up to that could stop you from writing this awe inspiring er stuff.  Well first of all I found twitter and I am still trying to work out exactly what it is and exactly how I can use it.  Yes it is great having all these followers and being able to exchange messages with eddie izzard and read the hilarious comments of Stephen Fry, I have not plucked up the courage to send him a message yet,  and I still cannot get a twitter widget on my blog or web page, Helen could you help please.  On top of that I have been busy constructing my website for my new business and if that was not enough I also came across a site called webook which is all about writing a novel or short stories, so I have started writing my novel.
Then of course the weather came good so the grass had to be cut and strimmed, things wanted planting etc,etc.
The weather has now reverted to cloudy and cold so hasty retreat back to the study and blogging.
I was inspired by an article on food stories, yes I know I push it all the time and yes it is written by my youngest sons talented partner, but there you are.  Anyway they sampled the delights of a burger recently which cost a whopping great 15 quid, so it set me off, I decided to build the equivalent gallic version.  Let me say upfront that I am a dedicated burger king double bacon cheeseburger or is it double cheese bacon burger, whatever and the nearest burger king from our village is probably Paris, a mcdo or the french version called quick is probably 30 miles away at least so we do not get take away ever.
The next obstacle is that the french do not do burgers to buy in the shops, what they do is what are called steak haché, literally pure minced beef in an oblong shape and probably twice or even three times thicker than your average shop or take away burger.  Now I did not want any old steak Haché for my perfect burger and so it was that I discovered Charolais beef.  These cattle originated around Charolles in central france.  The breed became established there and achieved considerable regard as a producer of highly rated meat in the markets of Lyon and Villefranche in the 16th and 17th centuries.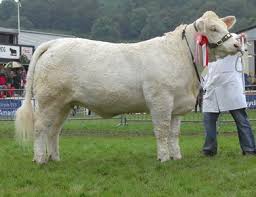 These are big animals, white in colour and are easily seen in the fields of Normandy and Mayenne.
So having found the finest burger I could, the next step was the bread.  You can buy seeded bread baps in france and I am quite happy to eat these with the normal steak haché but I was paying nearly 11 euros for 10 as oppose to a couple of euros for the standard burgers so I found a chabatta style roll which just to smell them was to die and go to heaven.
Now I do not like cornichon or tomatoes so they were never going to factor in this, however I love fried onions and cantel cheese so these were used on the lightly toasted bread rolls.  Some smokey bacon, green leaves and real mayonaise to top the burger and there you are.
Result, cooked on the george foreman, the meat was so moist and soft it was unbelievable, a cold alcace beer to wash it down and for less than 3 euros, you cannot go wrong.